It's all about fluff-worthy style this winter thanks to shearling coats. As the 1970s fever hit Fashion Weeks across the globe, it's safe to say that no harm can be done from adding a classic Seventies-inspired garment into your wardrobe this season. The shearling jacket is one of those pieces. A shearling – coat or jacket – will make you stand out of the crowd and feel like the next boho girl from the block. Enviable isn't it?
I must confess that when I saw Charlotte Groeneveld- from Thefashionguitar – sporting a long Chloé shearling coat over denim jeans, a simple black knit, and black high boots I was sold!
First, definitions "what is shearling?", "where does shearling come from?": a shearling is a skin from a recently sheared sheep or lamb. It has a suede surface on one side and a fur surface on the other. Usually the suede side is worn outward. Shearling can be made from real sheepskin or from synthetic fibers.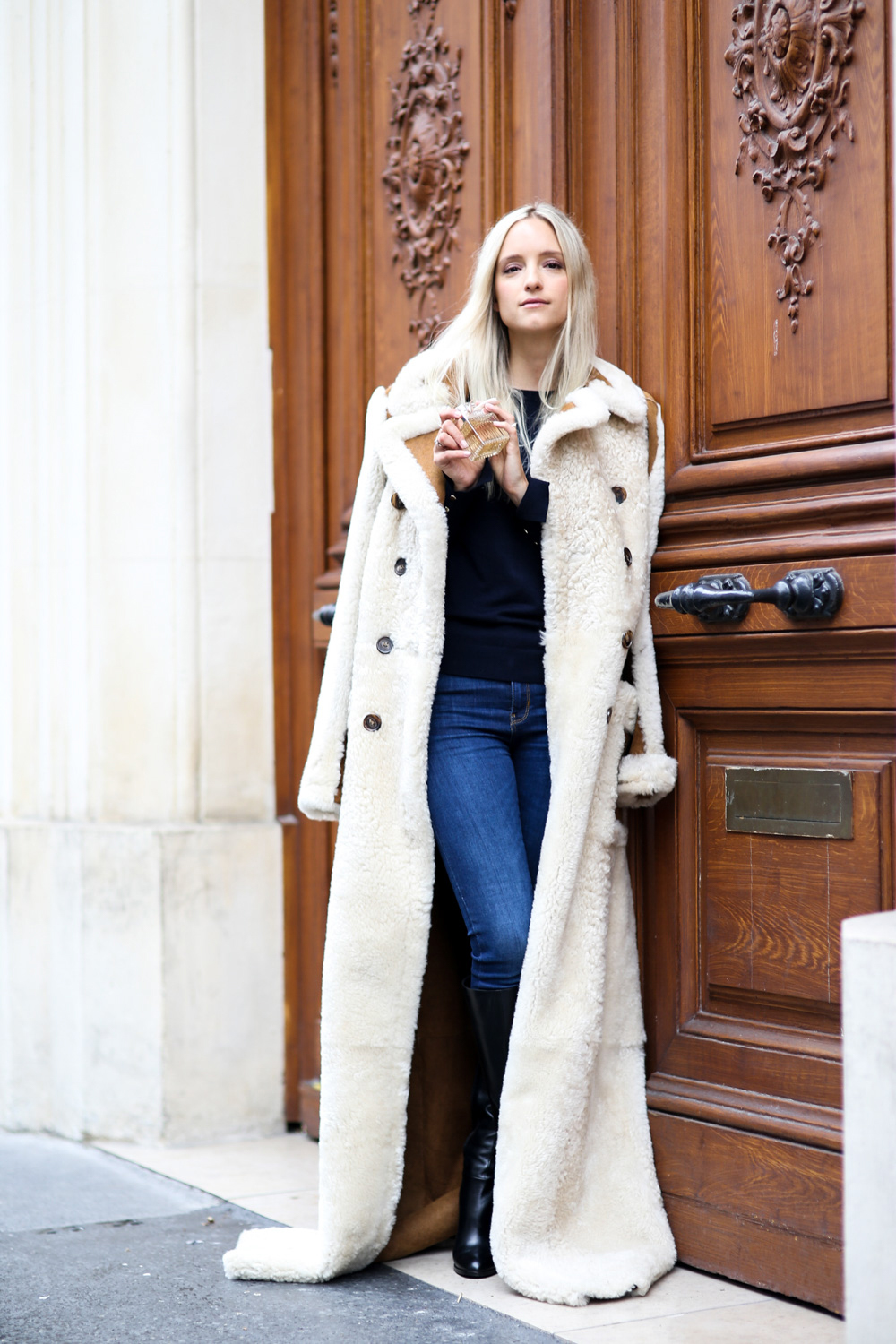 So how to style the shearling trend?
There are many ways to tackle the trend. An easy way is to wear the shearling jacket over a chunky knit, denim with boots. This will do for weekends as well as Friday wear at work… This is how I chose to style it today. I wear a shearling jacket in a neutral taupe hue teamed with cropped denim jeans and black suede boots.
Also you may pair the shearling jacket with leather pants and knits to brave the cold weather in style. The skin on skin effect is sexy. To go full boho, wear underneath your fuzzy coat, a long flowy dress and over-the –knee boots.
At work, a monochrome minimalistic all-black, grey, off-white, camel outfit associated with a shearling coat or jacket will infuse a luxe touch.
Shearling vest is another option: a perfect layering piece to make you feel warm and fuzzy.
Basically, wearing shearling will add the luxe factor to any and every outfit!
If you choose to invest in the real thing, the cost per wear is worth every penny: you will wear it forever.  If you go for the synthetic version, there are plenty of desirable options from hightstreet brands.
Here is some inspiration from designers to budget:
The vest: This vest from Calvin Klein is a mix of an aviator jacket and a vest. So luxe. This number from Jcrew is casual and pretty.
The Coats & Jackets:
Luxe: The trench coat from Burberry is a must. This Chloé version is the epitome of a shearling coat.  Anna Karenina would have worn this piece…
Budget: This Nasty Gal jacket comes in a beautiful olive hue. The Zara black version has wide off white lapels contrasting.
Will you have some fluff in your life this winter? I want to read your comments!